Unlocking Your Roots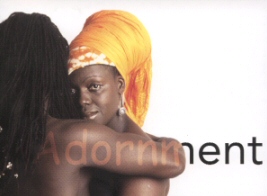 There's a natural mystic flowing through the hair!
A SHOWCASE of natural beauty techniques lending inspiration from cultures across the African Diaspora is back this weekend by popular demand.
Adornment 2004, a hair, beauty and fashion exihibition with a difference, is bringing the worlds finest headwrapping, hairlocking and braiding specialists together for two days of cultural adornment. Everything from bead making, mask making to free natural therapy and life coaching workshops will be taking place at the conference.
Beauty therapists, stylists and consultants will be offering a variety of tips including how how to prevent hair loss and advice on developing your own holistic hair business.
Guests can also treat themselves to traditional and complementary African-inspired clothes, accessories and decorative art for sale in the new marketplace or create their own hair adornment to take away with them.
Morris Roots, one of three British stylists who scooped top awards at the World Natural Hair Health and Beauty Show in Atlanta, Georgia, will be joining panellists to discuss the social, political and cultural significance of locks. He told New Nation: This is a cultural show, not only a hair show. It's a show to encourage black and African people to view their culture from a holistic perspective.
Ha addded: Throughout history locks has played a very important role whether in Ancient Egypy to Kenya or Jamaica and even Britain, the Caribbean and America. Today it's changing because people are beginning to realise that natural beauty is beauty rather than beauty that's been affected by perm or other means of extensions influenced by the Europeans.
Some 2,000 men and women flocked to the show last year and almost double that number is expected this weekend.
Adornment organiser Margot Rodway-Brown, added: The kind of workshops we put on are there to empower people with information and skills. For anyone who feels they want to access their own creativity or purchase a bit of somebody else's it's a great coonference to come to. There's going to be something there for everyone.
The third annual Adornment 2004 takes place this Saturday and Sunday at Kensington Town Hall, Hornton Street, W8 from 11am to 7pm. Nearest tube is High Street Kensington. Tickets for the show must be purchased in advance, for information call 020 8671 266 or visit www.adornment.org.uk.
By: Colleen Harris.